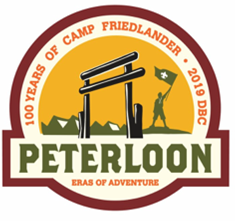 How To Add Participants to Your Peterloon Registration
You will need the registration number and the email used to make the registration. Please note that you can only add to your registration. If you need to cancel participants, please contact Rachel.Ball@scouting.org. Before requesting a cancelation, please try to fill the spot with a new participant.
Step 2: Click on the blue button "Click Here to Register for Peterloon 2019." This will take you to the Peterloon registration page, pictured below.
Step 3: On the right-hand side, click on the "Lookup" drop-down menu, then select "Lookup Registration."
Step 4: Enter the email address used during the registration and the 10-digit registration number.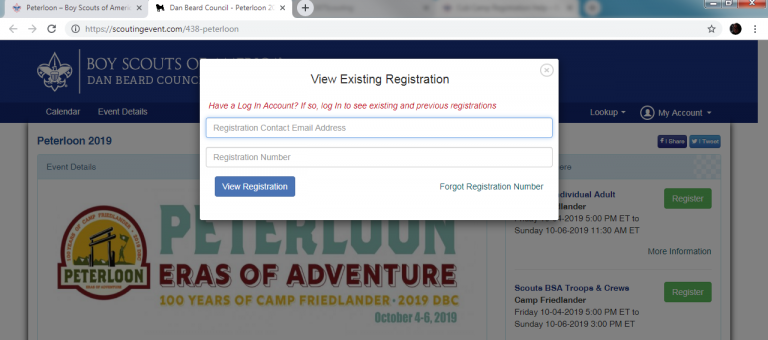 Step 5: Below is a sample of your Registration Page. You can edit unit contact or volunteer contact information here.
Step 6: Click on the "More" drop-down menu, then select "Add Participants."
Step 7: Here you will select how many additional participants you are adding. Then click "Add Attendee."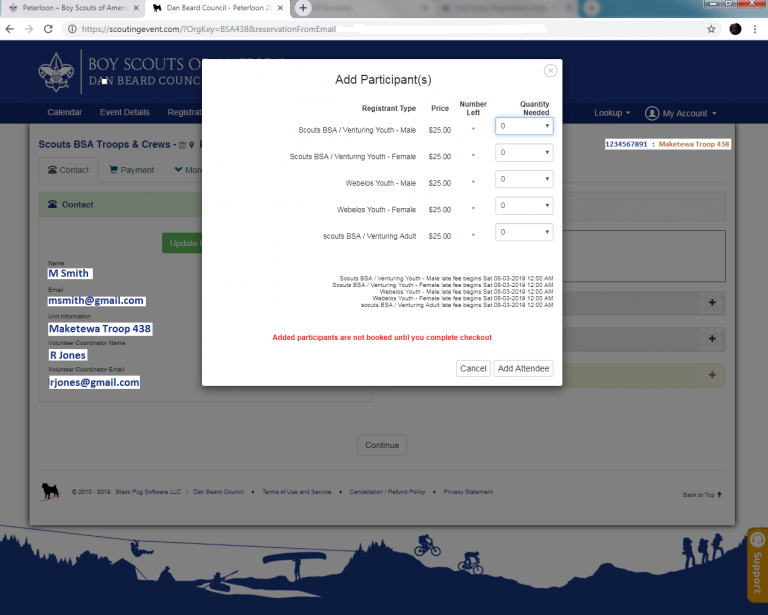 Step 8: After you clicked to "Add Attendee," you must check out. The Check Out button will be highlighted in red, pictured below.
Step 9: Review the additions you have made. Once you are satisfied with these changed, click on the green button "Begin Checkout," where you will enter your payment information.