INTRODUCTION TO OUTDOOR LEADER SKILLS (IOLS)
Introduction to Outdoor Leader Skills (IOLS) gives adult leaders the practical knowledge they need to help Scouts to learn outdoor skills. The skills presented closely follow the Boy Scout Handbook and rank advancement requirements. All the skills from Tenderfoot to First Class are covered in this training.
This is a required training course for all Scoutmaster and Assistant Scoutmasters. It is also encouraged for anyone who will be participating on campouts regularly to consider taking this class. The training is designed to help all adult leaders regardless of experience level feel comfortable performing and supervising these skills with youth.
IOLS 2023
Friday, October 27, 2023
to Saturday, October 28, 2023
Izzaak Walton
IOLS 2023
Friday, February 17, 2023
to Saturday, February 18, 2023
Camp Michaels
IOLS 2023
Saturday, April 15, 2023
to Sunday, April 16, 2023
Camp Friedlander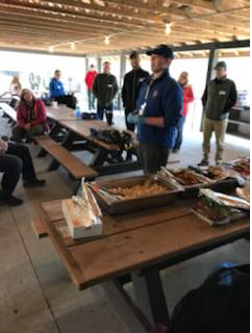 COST
$25 | Covers campsite, food and materials
WHAT TO BRING
Recommended equipment list:
Scout uniform
Clothing for Weather
Rain Gear
Personal First Aid Kit
Flashlight
Matches and fire starters
Pocket knife
Compass
Two-man tent
Sleeping bag
Sleeping Pad
Ground cloth
Scouts BSA Handbook
Notebook
Pen/pencil
Plate with utensils
Water bottle
Personal Camping Items