We celebrated the completion of the first major capital improvement campaign in Camp Michaels' 75 year history on Saturday, October 9, 2021. This long-awaited event was held at the newly constructed Eagle's Lodge located at 3486 Hathaway Road in Union, Kentucky. 
CAMP MICHAELS CAPITAL CAMPAIGN
We are happy to announce that Camp Michaels re-opened in Summer 2021! Special thanks to all of our donors who contributed to the Camp Michaels Capital Improvement Campaign. Because of your contributions, Scouts and Scouters can start to plan their visit to Camp Michaels and continue their Scouting adventures this summer! For past construction progress at Camp Michaels, click on the images below to expand and see a larger version.
Construction Has Completed at Camp Michaels!
Camp Michaels located near Union, Kentucky, has been welcoming Scouts from Northern Kentucky and Southwest Ohio since 1944. Throughout its history, the camp's rustic charm has made it a favorite spot for countless unit camp-outs and events. Additionally, Camp Michaels has been the Dan Beard Council's primary home for the National Youth Leadership Program (NYLT).
Over the last few years, the Dan Beard Council has been conducting a special fundraising campaign specify aimed at making several improvements to the property. We are so excited to be able to share some big news with everyone in the Dan Beard Council family: the campaign has raised nearly $5 million from many wonderful donors and construction has been completed!
Projects at Camp Michaels
Thanks to many generous donors, new facilities, renovations, and infrastructure improvements will all enhance the camping experience at Camp Michaels.
Camp Michaels will now include some "yurts" which are rounded, semi-permanent tents that will be great for troop camping! Parents may be excited to hear that the camp will now have a shower house – but it can't be guaranteed Scout campers will use it before returning home. The campfire amphitheater is receiving a significant upgrade, allowing for some truly memorable nights of camping.
The Order of the Arrow ceremonial circle will also be renovated and ready to go for lodge events. Additionally, the camp will have improved telephone, water, and electric service. The entry road to the camp will be graded making for a much smoother trip into the main area of the camp.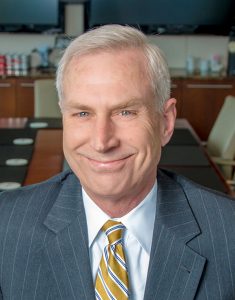 CAMP MICHAELS CAMPAIGN LEADERSHIP
Strong leadership from the Dan Beard Council board and staff have helped move this project along. However, none of it would be possible without the campaign co-chairs
Paul Verst and Don Bush. Their efforts will allow Camp Michaels to be a destination for Scouts for generations. Paul Verst is the Chairman and CEO of Verst Logistics headquartered in Walton, Kentucky. Before retiring, Don Bush was the managing partner of the Cincinnati office of PricewaterhouseCoopers and he is also a former Board Chairman of the Dan Beard Council, Boy Scouts of America. Special thanks to all of the volunteers who have contributed to help make this project happen for local youth.
"There's something about Camp Michaels and its rustic wilderness that brings out the greatest in all who come here."
For more information about the Camp Michaels Capital Campaign, or to schedule a donor tour, please contact Andrew Zahn, Scout Executive/CEO, at
(513) 577-7680 or emailing him at andy.zahn@scouting.org.