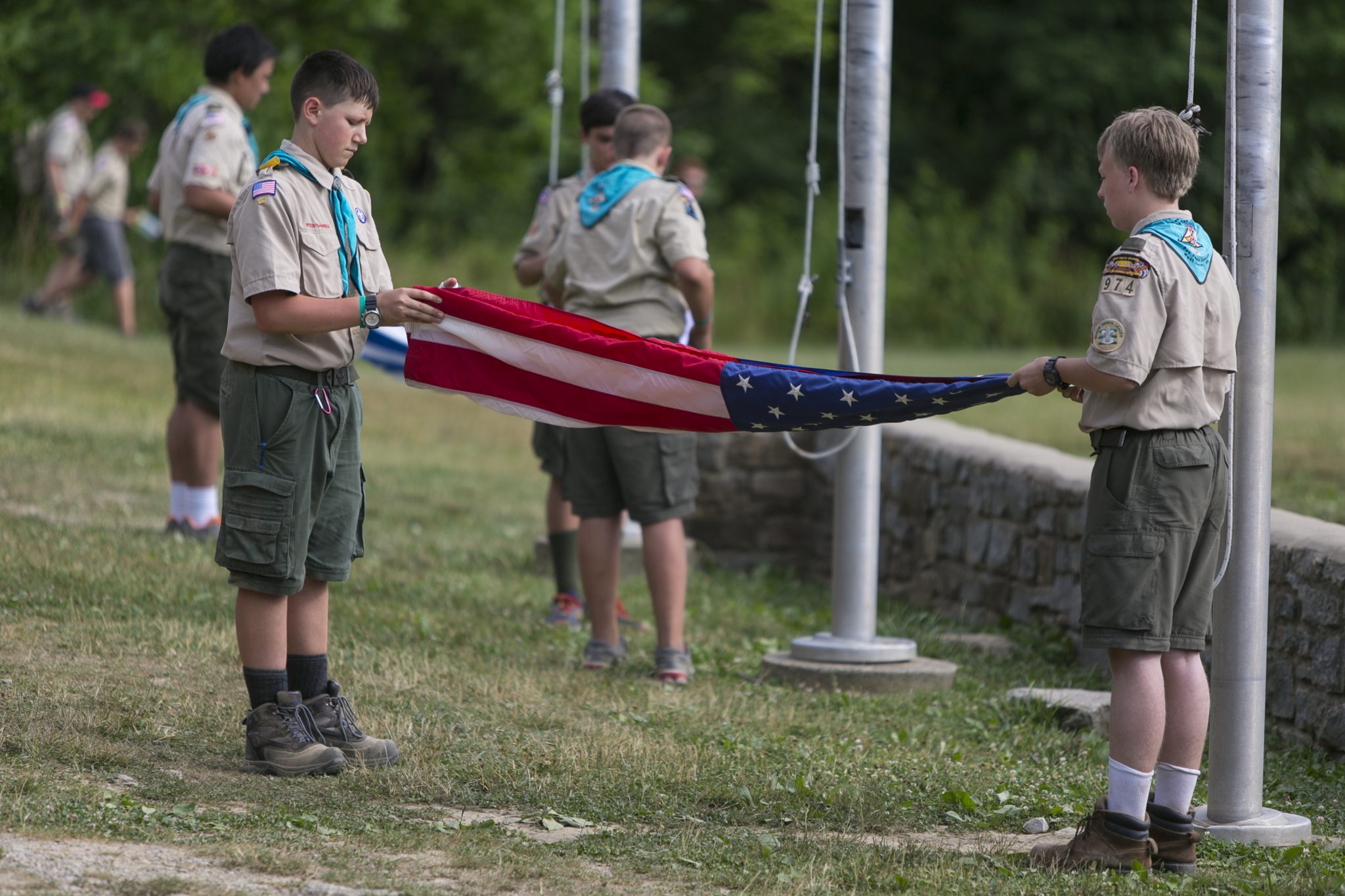 CAMP POLICIES & PROCEDURES
Any campers (youth or adult) that will arrive at camp outside the normal check-in-time must register at the camp office and get a camp ID bracelet. In the event of an emergency, it is important that we know who is in the camp at all times. Everyone in camp will be given an ID bracelet, which must be worn at all times.
All visitors must sign in and sign out at the Administration building and get a camp ID bracelet. Any visitor who has not registered may be asked to leave camp. It is important for safety that we know who is visiting our camp and when. Visitors who intend to eat a meal at camp can purchase a meal ticket at the camp office. Meal rates are as follows: Breakfast – $5.00; Lunch – $6.00; Dinner – $7.00.
Troops attending camp from the Dan Beard Council are provided secondary medical insurance coverage through registration and charter renewal. Out of council troops attending Camp Friedlander are required to show proof of accident insurance and a tour permit during check-in. Contact your local council service center to obtain this information.
HEALTH & SAFETY EMERGENCIES

Precautions for the safety of all Scouts and adults are paramount in the development of our programs and facilities. In the event medical needs arise while you are in camp, our health and first aid facilities are available with qualified personnel on duty 24 hours a day. Additionally, we have an agreement with Bethesda North Hospital, located seven miles from Camp Friedlander on Montgomery Road to handle any emergency that exceeds the capability of our trained medical staff.
All emergency plans will be reviewed at the leader's meeting and posted at the Administration building, each campsite, and each program area. In the event of a camp emergency, it is essential that staff direction be followed to maintain order and safety.
In accordance with BSA policy and safety regulations, personal vehicles (including golf carts) are not permitted in camp. Exceptions are made for adults with handicap needs – please contact the camp prior to arrival to secure a handicap pass that will allow you beyond the camp gates. The parking lot is clearly marked and just outside the entrance to camp. Only emergency and maintenance vehicles will be allowed to park at the Administration building.  This policy is for the safety of all campers. We appreciate your cooperation in parking only in designated areas.
The ranger staff will haul your troop's trailer to your campsite upon your arrival at camp. The camp provides two-wheeled carts that can be used to haul any troop or personal gear that is not in a trailer. There are no exceptions to this policy. Please be prepared accordingly. Carts are stored in the cart corral and must be returned when campers are done using them. Carts should not be kept in campsites for an extended period.
Camp Friedlander is a tobaccco-free facility. Smoking, vaping or tobacco use of any kind in front of any camper, adult, or staff member is strictly prohibited. The only designated tobacco use area in camp is inside your vehicle in the parking lot. Anyone who violates this policy may be asked to leave camp. Alcoholic beverages are never permitted on Boy Scout property. Please help the camp enforce these rules by making sure all leaders and parents in your troop are aware of this policy.
Scouts are not permitted to use personal electronics during programs, unless it is program related and approved by the Area Director. Scouts are only permitted to charge personal items in designated areas. Permitting the use of personal electronics by Scouts is always at the discretion of the unit leadership.
The camp owns and maintains its own shooting and archery equipment. Scouts and adults should not bring their personal firearms or shooting equipment from home. Participants with disabilities may be permitted to bring specialized personal shooting equipment, however, please contact the camp office prior to arrival to secure approval from the Shooting Sports Director and Camp Director.
For the safety of all camp participants, open-toed shoes are not permitted to be worn around camp.